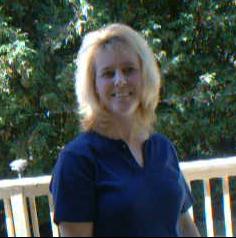 Me 2004

Hi Thank you for taking an interest in reading about me.
I was born in England, moved to Canada with my family in
1977. Married in 1985, divorced in 1997.
In 1993 i was diagnosed with
Fibromyalgia, My youngest was around 2 at the time.
Most of the pain i have these days is in my hands,wrists and hip.

I have 2 boys who are now teenagers. I love them dearly.
I first started knitting when i was around 12 yrs old. My mother
who is no longer with us, taught me to both knit and crochet.
It wasn't long before i was making scarves and other simple things.
Over the years i have done a lot of knitting and crochet for friends and
family, but it was around late 2002 that i decided to get back into knitting
and crochet, as i wanted to make some barbie clothes for my nieces,(Linnaea,
Chandra and Katelyn). It didn't take long before i was searching the internet
looking for more patterns. There just didn't seem to be too many that were affordable
or free. It was at this time i decided to try and design my own outfits.
During this time i was also learning web design, which came in very handy when
i was ready to share my patterns with the world.
At first my intention was to come up with very basic patterns that people could
do as they wished with, to improve them, but as time went on, i realized
not everyone had the know how to do this, so i took it a step further.
Now after all this time i am publishing books and trying to take my patterns
to the max. I love designing and creating these outfits, especially when i
see the faces of my nieces when they get the outfits as gifts.
It also makes me very happy to receive all the great emails and comments
all of you email to me and place in my guestbook, which i read all of
on a regular basis to give me a reason and inspiration to keep going.
I dont plan on stopping in the near future, there are so many dolls out there
that need clothes to keep me busy for a long time.

Thanks again for taking the time to read about me and don't forget
to sign my guestbook if you haven't already.